Space Jam – Cultural Spaces in Vancouver
Register
www.spacejam.eventbrite.com
Where
6:30–10pm / Friday 15 March, 2013
128 West Hastings, Vancouver, V6B 1G8
Intro
What makes a thriving and accessible cultural scene in Vancouver? Join us for a Jam to define, nurture and envision ideas for a new cultural landscape in our city.
Click the image below to download the Interactive Poster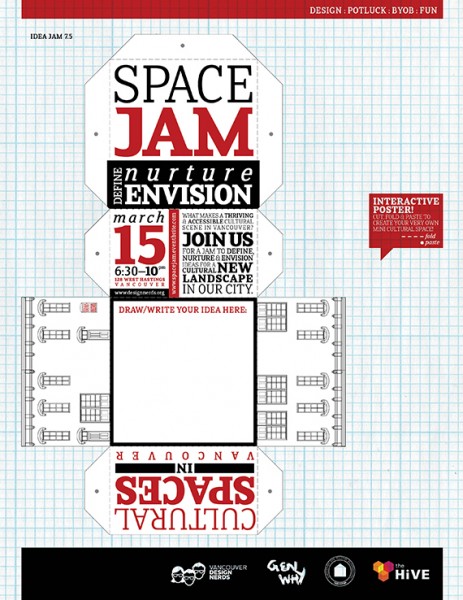 Background
Lately we've seen some of our most beloved cultural venues close – The Waldorf Hotel, W2, The Ridge Theatre, Pantages, Red Gate and Granville 7. It's easy to be frustrated, criticize, and get discouraged. But what about the PusH Festival, East Van Cultural Crawl, The Purple Thistle, Rhizome Cafe, In The House Festival and 221a? How are these cultural venues/projects successful? What goes into making a thriving and accessible cultural scene in Vancouver? How do we facilitate more DIY culture-making in a city with diverse interest and communities?
Join us as we explore different perspectives on how to create sustainable cultural scenes in our city. The Jam will be an opportunity for participants to discuss ideas and plant the seeds for their own cultural project in Vancouver.
As a collaboration between the Laboratory of Housing Alternatives, Gen Why Media and the Vancouver Design Nerds, the SPACE JAM is designed to help interested, creative citizens set out goals and priorities for the future of culture in Vancouver – and then help each other make them happen.
Entry is free and all are welcome.