Love Your Province – Provincial Elections Jam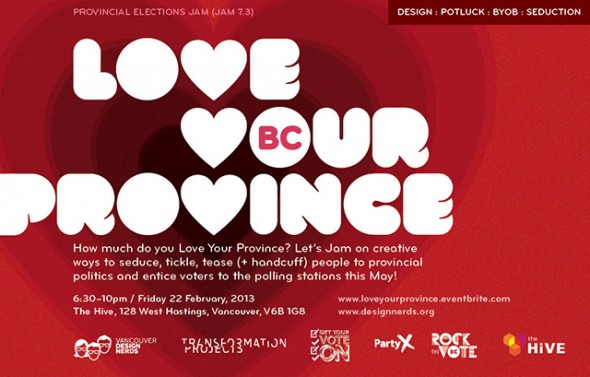 Register:
www.loveyourprovince.eventbrite.com
Where:
6:30–10pm / Friday 22 February, 2013
The Hive, 128 West Hastings, Vancouver, V6B 1G8
Intro
At the 2009 B.C. Provincial Elections voter turnout hit an all time low (50% showed up). With BIG issues facing both the present and future residents of British Columbia, the 2013 election is a critical moment in the history of this land, it's people and the world. Join us for a Jam to create innovative, smart and far reaching methods that seduce, tickle and tease eligible voters out to the polls on May 14, and make them fall in love with politics all over again.
Problem
Voter turnout in British Columbia has been consistently decreasing for a number of years. B.C.'s chief electoral officer, Harry Neufeld reported in 2005 that only 58 per cent of eligible voters bothered to show up. In 2009, the percentage dropped a full 8% and hit an all time low of 50 per cent voter turnout! When compared to the 1983 provincial election (only seven elections ago), which saw 70 per cent of eligible voters cast ballots, it's obvious that the numbers are continuing to fall. Neufeld reported that "We did a survey after the 2005 election, and a significant number of people … were simply disengaged with the political process and just didn't have an interest in following politics, being involved and being part of the voting process."1 One explanation for the 2009 low turnout was the Stanley Cup playoffs. Basically, voters preferred to focus on a tiny black dot being chased around some ice, rather than engaging with issues that affected or mattered to them.
Opportunity
This year, more than ever, the BC Provincial Elections are of critical importance for a number of reasons. At this current moment in history, the role that British Columbian's play in a number of key issues that concern, not just the rest of Canada, but how what gets done here affects both the rest of the present world, and the future world that our children and fellow species will inherit. Right now, the international eye is on what the leaders of our province will do next. Therefore we, the voters, have a key role to play. We get to decide who and what party best represents our collective voices until 2017, and who we think will connect and engage with us best during their four year term of office.
Task
Take your pick from the following two possibilities:
1. Team up with either Get Your Vote On, Party X, or Rock The Vote and brainstorm ways to help them with increasing voter engagement, as well as assist them with specific issues related to their products and services.
2. Work with one of the wildcard themes (below) and do something fantastical with it.
Wildcards:
Tickle-Me-Pink (or rather: Green, Orange, Red and Blue)
Deep-Vote (oral techniques for 'better voter engagement')
Make Out In May (or rather, make 'it' out in May)
Slow-Vote (relax, take it easy, vote)
Hardcore Pawns (how to build a people-powered movement)
Motor-Vote (Put your head between those booths and make a 'brrrr' sound)
Get On The Poll ("That's what she said…")
Pants-Off Party for Parties
Go Down On Your Polling Station
Carbon Corridor Crash Course
First Things First (Nations)
Co-hosted with:
· Transformation Projects
· Get Your Vote On
· Party X
· Rock The Vote (BC)
+ More!
Sexy Non-partisan elections info:
http://www.elections.bc.ca/
Advance Voter Registration:
https://eregister.electionsbc.gov.bc.ca/ovr/welcome.aspx
—
1. http://www.cbc.ca/news/canada/british-columbia/story/2009/05/13/bc-low-voter-turnout.html