Virtual Design Jam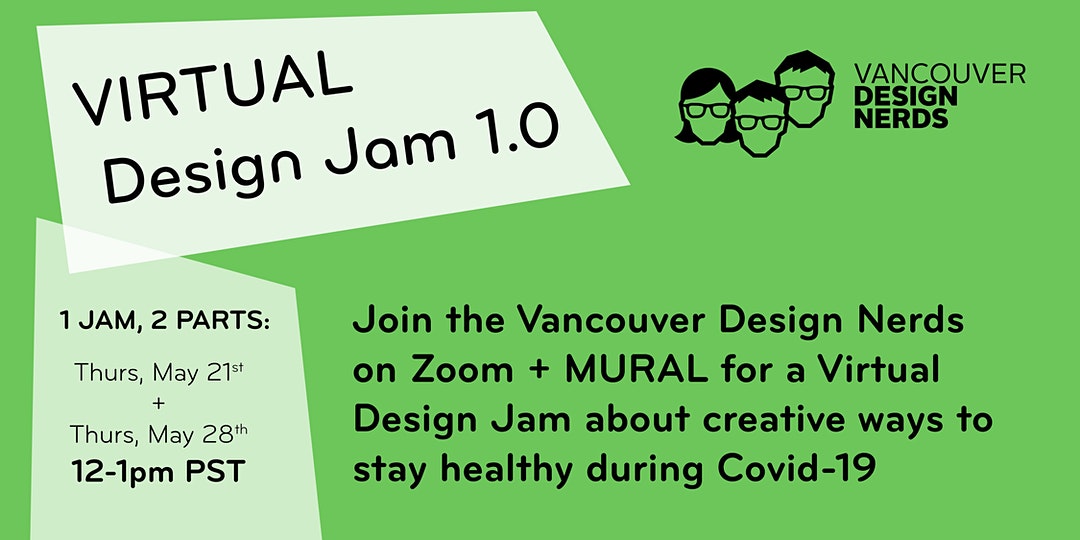 How might we take positive, creative steps to stay healthy during the Covid-19 Pandemic?
Join the Vancouver Design Nerds for our FIRST EVER Virtual Design Jam!
Like many of you, we have had to pivot in order to keep doing the work that we love. We have a solid history of engaging, in-person events and installations, and a virtual setting is new to us. But, we're up to the task, and we're leveraging some cool digital tools like MURAL which allows groups to collaborate on a virtual whiteboard, using our beloved sticky notes. 
Here's how it will work. We'll all jump on a Zoom call, and after a short intro, we'll split up into breakout rooms with a facilitator who will guide us through the process of using MURAL for collaborative brainstorming. There will be a series of activities that run through four design phases: DISCOVER, DEFINE, DEVELOP and DELIVER. 
This event is one Design Jam, but it is broken up into two parts, over two weeks, in lunch hour sessions.
Part 1:
May 21, 2020
12pm-1pm
This first event will run through the first two phases of the design process (DISCOVER + DEFINE).
Part 2:
May 28, 2020
12pm-1pm
The second half of the jam will finish up from where we left off in week 1 (DEVELOP + DELIVER)
It is NOT a requirement to attend both events, but we'd love it if you would.