Make Space for S P R I N G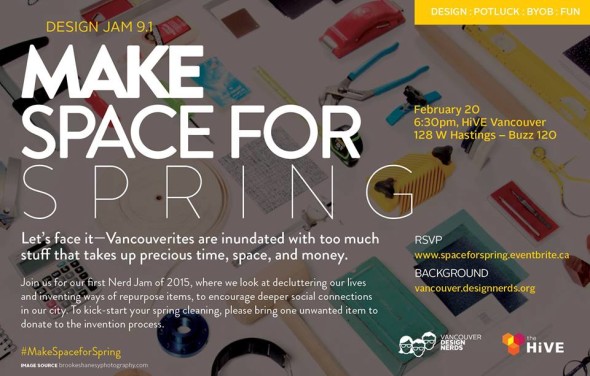 Register: spaceforspring.eventbrite.ca
#makespaceforspring
Let's face it Vancouverites are inundated with too much stuff that takes up precious time, space and $$$. Join us for our first Nerd Jam of 2015 where we look at decluttering our lives and inventing ways to re-purposing items to encourage deeper social connections in our city. To kick start your spring cleaning, please bring 1 unwanted item to donate to the invention process.
STUFF:
Yes – closets, hard drives, cupboards and nook and crannies abound with things we either don't use, don't love or may have forgotten we even have. What can we do when we realize it's taking up room in our homes, minds and lives, never mind the landfill? Join us as we explore ideas around why we buy, what happens to the stuff we no longer need and how can we shift from accumulating stuff to accumulating experiences and connections within our community.
Jam images
Images from the hilariously entertaining Jam. We made music from mice and Christmas tree baubles, we made a camp-fire from a vase and a bike light, we made a 'Yellow Sages' game from an old Yellow Pages, we made an assault course of household items, we made a make-out booth out of a lamp-shade and we made a rave-in-a-basket out of glow sticks and a basket (obviously)! Most of all, we made magic. Thanks, as always to the HiVE for hosting us and to all those who came, nerded-out and made the city just a little more awesome that it was the night before. Thanks to Kim Cooper and Jenn Co for facilitating (it was Jenn's first time!). You rocked it!