Design Nerd Jam 5.7 – Maker Faire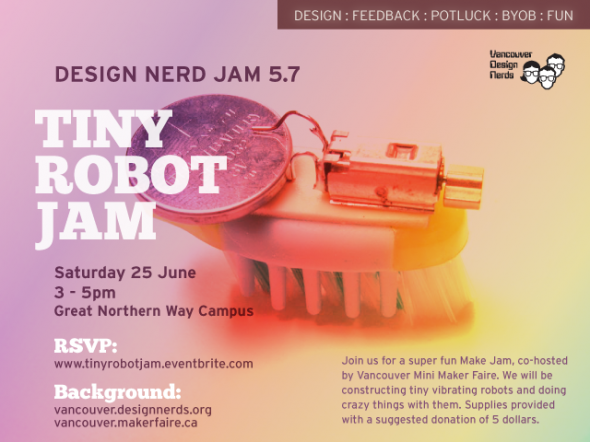 Saturday June 25
3-5pm
Great Northern Way Campus
Maker Faire Grounds
Join us for a fun Make Jam co hosted by Vancouver's first Maker Faire. We will be making tiny vibrating robots and doing crazy things ~ such as racing them, drawing with them, building environments for them, etc.
RSVP: www.tinyrobotjam.eventbrite.com
Please note: Attendees must have tickets into Maker Faire in order to participate in the Jam.
On Bristlebots by Evil Mad Scientist: The BristleBot is a simple and tiny robot with an agenda. The ingredients? One toothbrush, a battery, and a pager motor. The result? Serious fun. (YouTube video here.) The BristleBot is our take on the popular vibrobot, a simple category of robot that is controlled by a single vibrating (eccentric) motor. Some neat varieties include the mint-tin version as seen in Make Magazine, and the kid's art bot: a vibrobot with pens for feet.