Design Nerd Jam 5.2 – OPEN JAM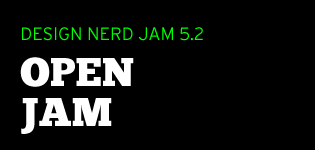 Do you have a fantastic collaborative project idea that would benefit from diverse and brainy participants of the local design and arts community?
If so, prepare a 2 minute pitch for the next "Open" Design Nerd Jam on February 18, 2011! If the group likes your idea, we'll jam on it for the evening.
February 18, 2011
7-10pm
@ Recollective: 109 – 5 W. Pender St
Vancouver
Design Nerd Jams are inclusive, fun and high energy brainstorming events fueled by shared values, food and alcohol.
As always, BYOB and POTLUCK.
Please RSVP here: http://open-jam.eventbrite.com/
Nerd on.